For added convenience, our customers can submit sign rental applications using our online submission form.

Submit mobile sign online

Letters Colours
When preparing a rental sign, Go Signs uses unique letter colours to grab the attention of the reader.

Our current colours consist of Blue, Yellow and White


Board Size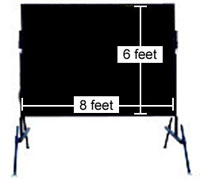 Rental Terms and Conditions

Go Signs handles invoices and rental contracts with their clients in three ways: thru e-mail, fax and in person (carbon copy paper).

For all purposes, when a rental form is completed, signed and returned it is assumed the lessee has read and has agreed to the following terms:

Lessor will deliver and pick up sign(s).
The lessee has the right to use the said equipment as long as lessee shall not be in default in his/her rental payments.
The lessee shall have use of the sign(s) only during the term of this agreement and title to the sign(s) remains with the lessor at all times.
Lessee agrees that he/she will pay any and all taxes, license fees and permit fees that are required.
The lessee agrees to comply with, perform and execute all laws, rules, regulations or orders of all provincial, federal or local governments.
The lessee further agrees that liability for contraventions of any law, municipal by-law, ordinance or regulation shall be his sole responsibility and covenants to save the lessor harmless from all losses, damages, claims, penalties, and expenses, incurred as a result of such contravention.
The lessee agrees that he/she and/or his insurer will be responsible for any damage, theft, missing or broken parts, howsoever these occur; ordinary wear and tear excepted.
It is understood and agreed that the lessee is responsible for liability regarding personal injury and property damage resulting from the use or misuse of the said sign(s) or equipment. The lessee agrees to indemnify and save harmless the lessor from any and all claims, costs and expenses in any manner arising from the lessee's use or possession of the said equipment, against all loss, damage and expenses whatsoever arising from any action, suit or proceedings or otherwise on account of any personal injury or death or damage to property occasioned by the said equipment during the term hereby created.
If this contract is terminated within two weeks of its execution, the lessee shall pay the lessor two weeks rent as a contribution to the expenses of the lessor theretofore incurred.
None of the equipment shall be sublet by the lessee or moved to another site, other than as shown on this agreement, nor shall he/she assign or transfer any interest in this agreement without the previous written consent of the lessor.
The lessor shall have the right at any time to enter upon the premises occupied by the equipment and shall be given free access thereto and afforded all necessary facilities for the purpose of inspecting the equipment.
It is agreed that the lessor makes no warranty or guarantee whatsoever as to the equipment or its performance.
In the event of default in payment by the lessee, interest shall be payable on arrears at the rate of 2% per month. Further, in the event of default, lessee shall be responsible for lessors collection charges.
There are no understandings or arrangements, verbal or otherwise outside of this written agreement.

When a client deals with Go Signs in person, these rental terms and conditions appear on the reverse of the yellow carbon copy paper that the clients receive.

When a client deals with Go Signs thru fax or e-mail they are directed to this web-page to review and read over these terms and conditions. Also, when dealing with a client over fax or e-mail, once said client returns a signed and dated rental form, it is assumed they have read and agreed to these rental conditions.

Any client can at any time request to see these terms and conditions in hard copy.

Please ask us if you have any questions or comments regarding our sign rental terms and conditions. We will be happy to discuss them with you.